---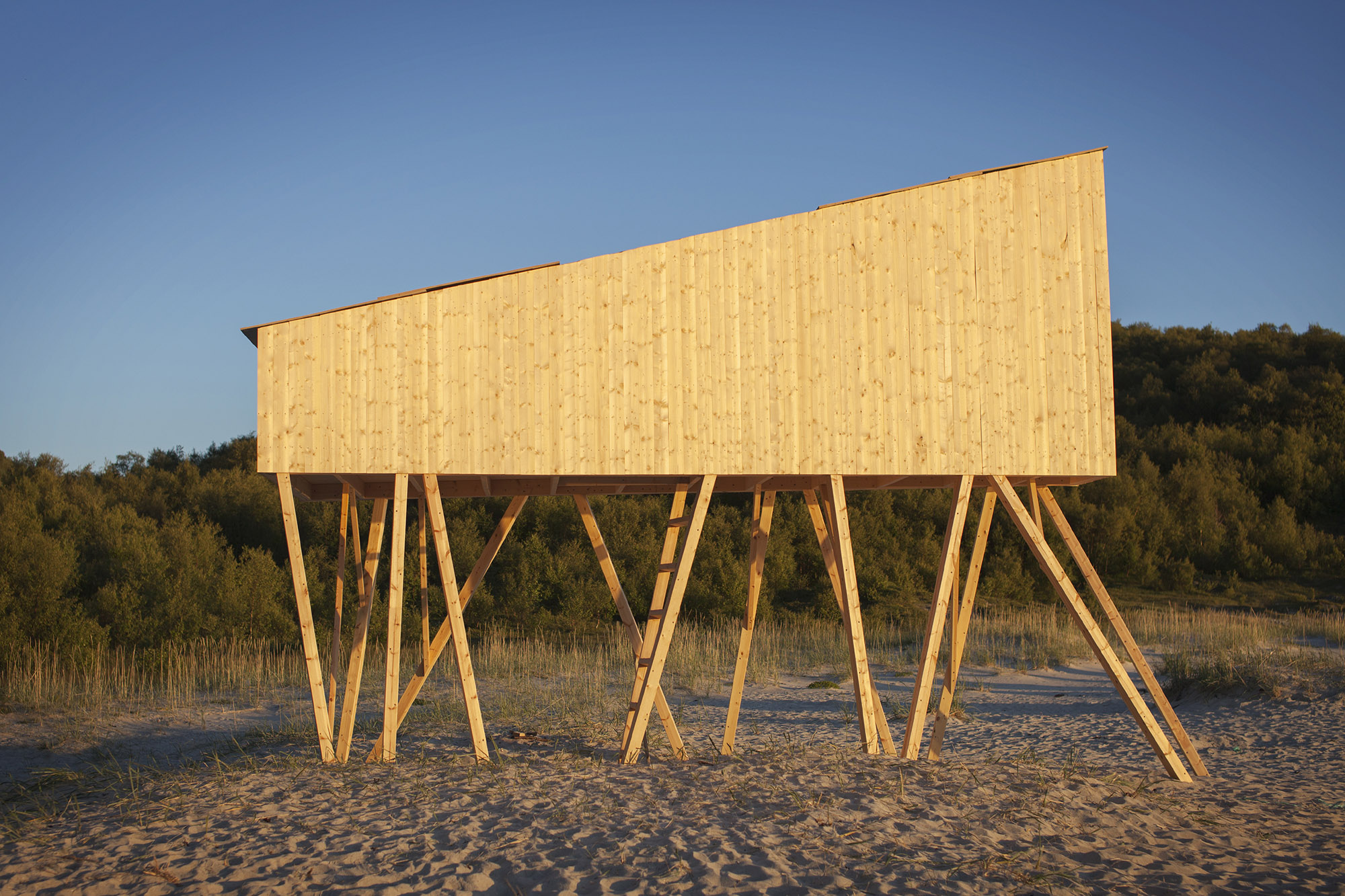 ---

About

Overview
SALT is centred round three architectural structures inspired by the fish rack, developed by Norwegian architects Rintala Eggertsson Architects between 2010 and 2014.

The form of the project is derived from the traditional fish racks which are found along the North-Norwegian coastline and have for centuries been used for drying fish for stockfish production. The rack construction is a flexible structure both in terms of adjustment to all kinds of terrain situations and also when it comes to transporting it over longer distances like in this case where the client wants to organize cultural events at different locations around the arctic and subarctic area.

The main structure can be constructed as one long element, subdivided into functional entities or as several smaller structures, each consisting of a function of its own. In this first location, it is divided into three separate structures; one for concerts, the second containing a restaurant and the third one with a spacious sauna inside. In addition to the main buildings, the municipality has commissioned Rintala Eggertsson Architects to design a permanent service building which can serve the festival when there are cultural activities taking place and the regular hikers in the area after the festival. The building was called PEPPER as an opposite to the temporary Salt structures and the heavy roof structure in cor-ten steel will further increase the contrast. Furthermore, the studio has taken care of organizing an international building workshop where additional functions were designed and built during a period of two weeks earlier this year. Together with Joar Nango, Roger Mullin, Håvard Arnhoff, Alberto Altés and Richard Dacosta Barriteau, Sami Rintala led a group of 29 architecture students designing and building small scale buildings for accommodation and recreation. This part of the SALT project was given the name SIIDA meaning a meeting place in the North-Sami indigenous language.

The SALT festival took place in August 2014, with visitors from all over the world. Here is an excerpt from their festival program:

SALT begins its journey upon an Arctic beach on the mountainous island of Sandhornøya, south of Bodø, Northern Norway, 29th August 2014 until 6th September 2015. Here, at this remote location, surrounded by breath-taking nature, visitors can discover a place to engage the mind, body and soul.

SALT will over the coming years travel across the northernmost part of our planet, making a home in Greenland, Iceland, the Faroe Islands, Ireland, Scotland, Spitsbergen, Alaska and Russia. SALT is an ambitious and inspiring concept designed to stir the imagination. Like nothing that has come before, it will also leave no physical trace. SALT is an initiative for arts, culture and environment that will each year move to a new location in the Arctic. SALT uses the Arctic nature as a framework for strong arts and cultural experiences.


Info
Design Team
Sami Rintala, Dagur Eggertsson, and Vibeke Jenssen

Workshop Teachers
Sami Rintala, Joar Nango, Roger Mullin, Håvard Arnhoff, Alberto Altés, and Richard Dacosta Barriteau

Client
Langferd AS
Erlend Mogård Larsen

Engineering
Reinertsen AS
Sigurður Gunnarsson

Workshop Participants
Amber Kilborn, Andrea Lizáková, Ashley Hannon, Audingas Sumskas, Benny Kwok, Caroline Krenc, Courtney Wuerfel, Daniel Evensen, David D'Andrea, Emma Sandvik, François Abbott, Hanna Johansson, Hanne Marie Barriteau Siiri, Josep Garringa Tarres, Jørgen Tellefsen Relling, Kristin Pallin, Kåre Grundvåg, Léa Eyraud, Marthe Vaagland, Maxine Lundsröm, Megan Florizone, Meredith Innes, Mihai Mardare, Milja Tuomivaara, Pierpaolo Pepi, Piotr Paczkowski, Ryan Radics, Simon Bengtsson, and Vågard Erdahl Nyaas

Photography
Gunnar Holmstad and Marte Antonsen


---