---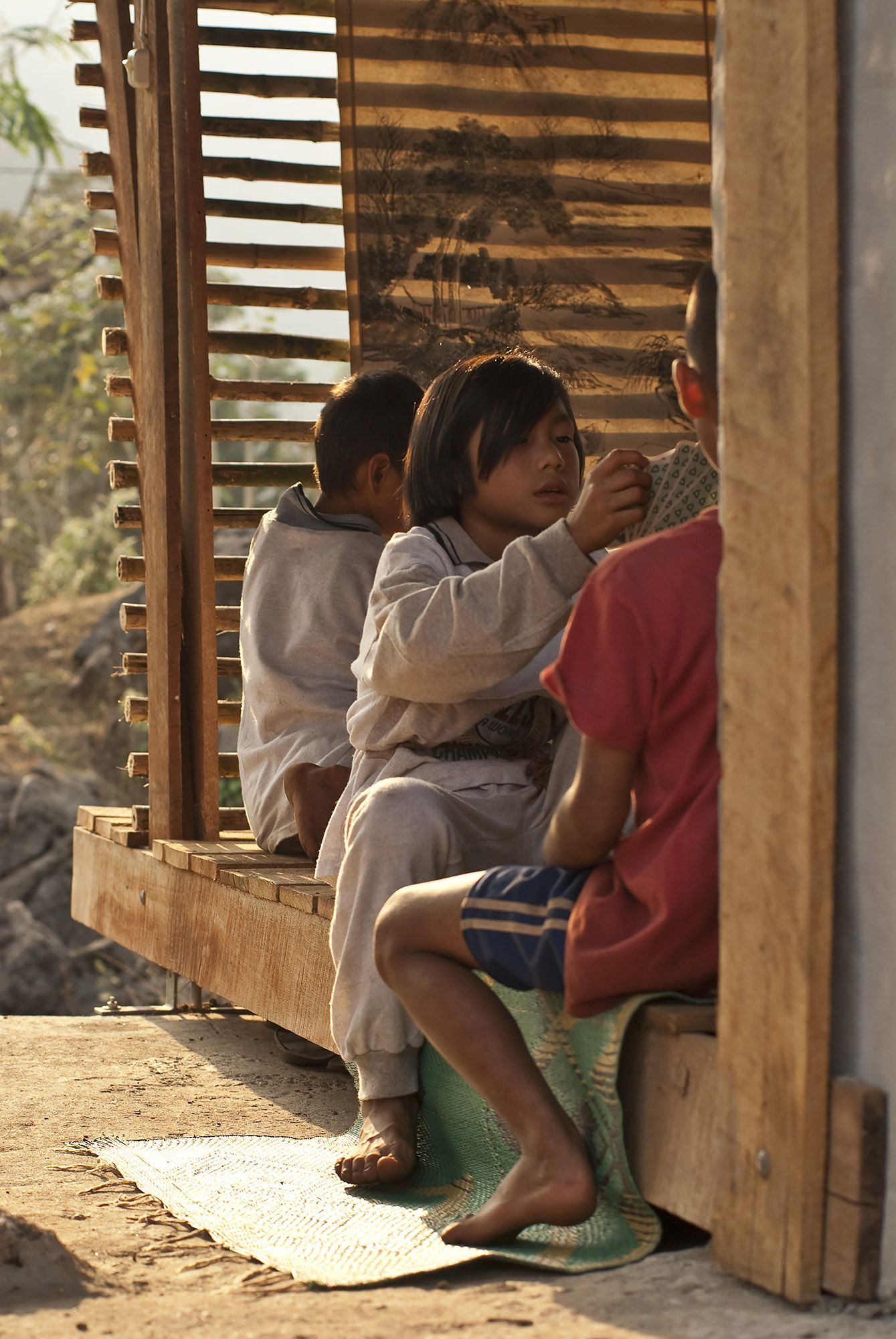 ---

About

Overview
In two weeks during from January 12-25, 2009, fifteen NTNU Trondheim architecture students, led by Sami Rintala, designed and built a two storey library building for Safe Haven orphanage in Ban Tha Song Yan village near Burma border. The inhabitants of the orphanage are 42 children of different ages.

The task was to utilize local materials and building techniques to create a building that would solve the problems of education in the orphanage in the most practical way. At the same time, the design also worked with the surrounding environment, with research on natural ventilation systems and sunshades completed and incorporated into the building. The structure was built from natural lava stone from the site, concrete bricks, wood, and bamboo. The lower level of the library houses the books and a computer area while the upper level is more for lounging, play and enjoying the books.

The concrete base of the library is cast on a bed of large rocks gathered on-site. Walls made of plastered concrete blocks cools the building during the day, while the open bamboo facade gives a good ventilation. Iron wood makes up the solid frame construction and serves as comfortable floor for the children to play on.

The bookshelves run along the concrete walls in their full height, and the floor is left unfurnished to give room for different activities. The entrance, creates a comfortable buffer between the outdoors and indoors and divides the ground floor into a small computer area on one side and a larger library room on the other.

In the library the children at Safe Haven Orphanage now have a space to do homework, use a computer with internet and read books written in different languages. The new building has also attained the important role of a gathering space and is frequently used for play, games and crafts.

Info
Architects
Rintala Eggertsson Architects and Tyin Tegnestue

Workshop Teachers
Sami Rintala and Hans Skotte

Client
Safe Haven Orphanage

Materials
Natural lava stone from the site, concrete bricks, and bamboo

Sponsors
Norsk Betongforening, Bygg uten grenser, Minera Norge, Spenncon, Norwegian University of Technology and Science (NTNU)

Workshop Participants
Pasi Aalto, Jan Kristian Borgen, Mari Folven, Ragnhild Førde, Sunniva Vold Huus, Olav Fåsetbru Kildal, Lene M. N. Kværness, Oda Moen Møst, Ørjan Nyheim, Karoline Salomonsen, Anne Sandnes, Ola Sendstad, Kristoffer B. Thørud, Caroline Tjernås, and Anders Sellevold Aaseth

Photography
Pasi Aalto


---