---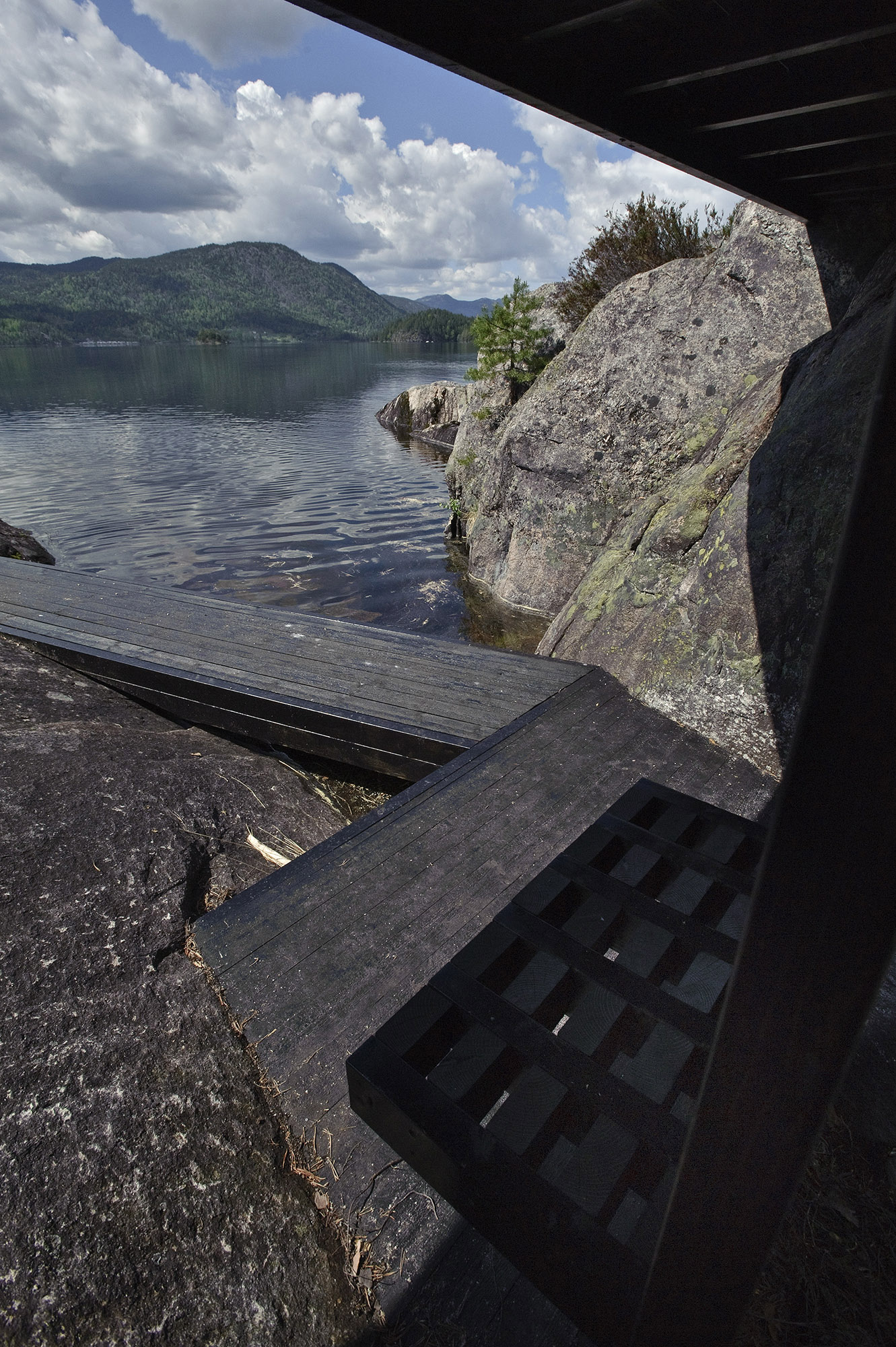 ---

About

Overview
The myth about a sea serpent in the lake of Seljord has become an integral part of how the local people of Telemark conceive its majestic landscape. Tales about mysterious phenomena in the lake have flourished for centuries and are a natural part of the daily life in the area. In 2008, the municipality of Seljord decided to use this mythical feature as a point of departure for a development programme for the area.

Together with the curators Springer kulturstudio, they commissioned Rintala Eggertsson Architects to design different lookout points around the lake to ease the access for local population and visitors to experience the lake at some important places. The assignment was divided into two parts; first to design three small installations in the mid- and southeast section of the lake and then to design a main viewpoint in the southwest end of the lake, close to the small town of Seljord.

The first part was organized as a building workshop with art- and architecture students and teachers from Nuova Accademia di Belle Arte and Politecnico in Milan and scenography students from the Norwegian Theatre Academy under our leadership. The whole workshop was thematically focused on the issue of anchoring man-made installations to characteristic features in the landscape without dominating them. The three installations are presented on our website under the title "Into the Landscape".

In this second part we found ourselves dealing with anchoring again, not only because of the stunning beauty of the chosen site, but also due to the framework of the task which was all about mediating natural phenomena to a larger public. This time we were faced with a site with two pine trees with large canopies creating a natural place for rest and recreation. This became the landscape feature on which it felt natural to anchor. As the room programme listed a viewing platform and a small shelter for exhibitions, we decided to divide it in two and place the two functions on each side of the trees, with a connecting deck in-between.

Info
Workshop Teachers
Sami Rintala, Dagur Eggertsson, Luca Poncellini, Massimiliano Spadoni, Paolo Mestriner, and Francesco Librizzi

Client
Seljord Municipality

Curators
Gunn Marit Christenson and Atle Barcley

Installations
Fishing point at Telnesøyan
Sauna in Vedbekkdalen
Top point at Nysvingen

Workshop Participants
Nataleen Amin Ahmad Da'as, Babayeva Nargiz, Federico Baruzzi Vaj, Gaia Bianchini, Zulfadly Helmy Bin Ab Wahid, Arian Brajkovic, Vincenzo Calibè, Felipe Caro Martinez, Emily Cheng, Francesco De Tintis, Daniela Di Maro, Jorge Alberto Diaz Hurtado, Elena Diaz Roldan, Margherita Fenati, Chiara Ferrario, Fabricio Ferreira Fernandes, Silvia Laura Fittante, Arianna Forcella, Aresha Gul, Anna Kauber, Nestan Kebadze, Lucilla Pesce, Eliana Stella Sanabria Galvis, Nadezda Savenko, Maria Pina Usai, Stefano Vidari, Julie Wimmerova, Maedeh Ziaei Moayyed, Carmen Maria Zuleta Ferrari, Edoardo Giancola, Filippo Minora, Antonella Radicchi, Federico Zarattini, Enrico Arrigoni, Jakob Ordesson, Jannick Lavallé, and Johannes Ørn Dagsson

Photography
Dag Jenssen


---